At last a Felt Stiffener in Powdered form!
Simply add to 1litre of rubbing alcohol, isopropyl alcohol (IPA) or ethanol and leave to dissolve at room temperature, shaking intermittently until the powder has dissolved completely. This may take a few days.
This is a highly effective felt and fabric stiffener in powdered form.
Isopropanol and rubbing alcohol can be sourced at veterinary/ agricultural/ equestrian suplliers relatively inexpensively.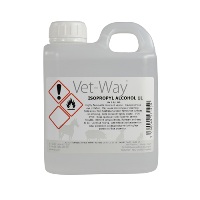 The result is a very inexpensive, but extremely good felt and fabric stiffener at less than half the price of a made up stiffener. Once made up it can be stored for a very long time.
Once made up it is a high solvent stiffener for felt and wool fabrics. The best bit about this is that you can play with the concentration.
Paint on, sparingly, to the inside of pre-shaped pieces using a brush and a circular motion. Start in the centre and work your way out. Allow it to dry/harden. Check for 'soft' spots and add a little extra to these areas
Use in a well ventilated area away from naked flame or source of ignition. Store in a cool place away from sources of ignition.
3 x 25g Pack of concentrated felt stiffener makes 3 litres of felt stiffener